THE ECONOMY
In 2018, the D.C. regional economy added about 30,000 jobs – significantly slower than the previous year but still decent job growth (see Figure 1). Regional variations in job growth between Northern Virginia, the district and suburban Maryland can be explained, in part, by shifting federal spending priorities of the Trump administration, which has favored spending in sectors that are strong in Northern Virginia. Importantly, the region continues to shift economic growth away from dependence on the federal sector. Recent estimates from the Fuller Institute at George Mason University (GMU) show that federal government activities, including contracting, represented 31% of the economy in 2018 – down from about 40% in 2010.
Figure 1. Job Change, Month-Over-Year – Washington Metro Area (000's)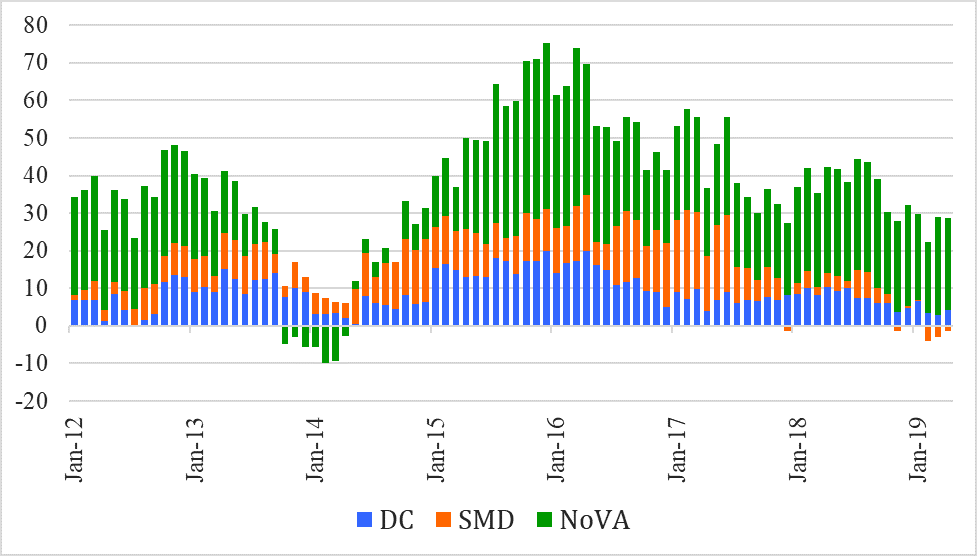 Source: Bureau of Labor Statistics

The announced arrival of Amazon's HQ2 to Northern Virginia is among the biggest changes in the region. Amazon's second headquarters is expected to host 25,000 employees in about 12 years. More important than the actual job growth, the Amazon announcement is a clear, global statement that this region can be a vibrant, tech-focused hub for private sector investment.

This change in the structure of the regional economy will likely have at least three impacts on the residential real estate market.


Federal workers will become a smaller share of Realtor® clients, which may impact clients' job stability, length of stay in a given home and retirement planning.
The impacts of government shutdowns and agency budget cuts, which seem to be increasingly favored political tools, will become less important to our overall base of current and prospective homebuyers.
Our local real estate and job markets will more closely mirror national economic cycles – though the federal government will still be an important backstop to the regional economy.
One area of uncertainty is the increasing efforts by the current administration to shift federal agency jobs away from the national capital region. Pending changes in jobs at the Department of Agriculture and Department of the Interior, as cited in the Washington Post, have caused much consternation among federal workers. However, an interesting outcome may emerge. According to recent National Public Radio and Washington Post reports, the majority of federal workers from the Department of Agriculture whose jobs are relocating to Kansas City have decided to leave federal employment and remain in the D.C. area. While these residents could have relieved inventory challenges by relocating and freeing up homes for sale, having these talented workers stay in the region can be viewed as a net gain for our economy.
THE URBAN FORM – DENSITY ARRIVES IN THE 'BURBS
While there are several examples across the region of high-density, mixed-use developments appearing in suburban markets, particularly in transit-served areas, the Merrifield district of Fairfax County is a particularly relevant example.

Merrifield, which is the area that includes the Dunn Loring Metro stop, has been a target for urban planners for at least two decades.

In 1998, Fairfax County hosted a community visioning workshop to reimagine how the district could be transformed. According to the Fairfax County Comprehensive Plan, 2017 Edition, the citizen stakeholders at this vision session enumerated several goals: encouraging revitalization and redevelopment of district properties, stabilizing residential areas adjacent to the town center, becoming mixed-use in character, and boosting the number of housing units in the district – including affordable housing.

Through several years of efforts, including the establishment by Fairfax County of a tax-increment financing district to incentivize investment, plans for what is now the Mosaic District have come to fruition. Located south of Lee Highway between Gallows Road and Eskridge Road, the two-phase project will eventually include almost 1.9 million square feet of office, retail/restaurant, retail, residential and park space. Phase One completed in 2012 and Phase Two is well underway. Housing units include apartments, condominiums and townhomes.

There is substantial anecdotal evidence that Mosaic has achieved the planning goal of stabilizing and even boosting property values in adjacent residential areas. With its visitor mix of young adults, families and prime-earners, Mosaic has become one of the "coolest" places in D.C. suburban markets.

That cool factor may be about to increase. In June, Fairfax County announced its new partnership with Dominion Energy to operate autonomous shuttle buses from the Dunn Loring Metro station around the Mosaic District.

Other examples of the suburbanization of density in Northern Virginia include the Ballston area of Arlington and the conversion of the old Potomac Yards rail storage facility. If the new "Amazonians" want to have transit-based commutes from walkable and bicycle-friendly neighborhoods with entertainment, retail, and dining options, they are no longer limited to D.C. Mixed-use development, which was once a common subject of the "Not In My Back Yard" (NIMBY) mindset, now represents clear opportunities for growth and development in traditional suburban markets.
WHO YOU GONNA CALL – FOR A LOAN?
The new litmus test for "seasoned" versus "newbie" Realtors® can be based on this question: "Do you remember when we got our mortgages through banks?"

Non-bank lenders became widespread leading up to the sub-prime lending crisis, but many of these non-bank lenders became obsolete as their financial models collapsed with the bursting housing bubble. The odds of a mortgage originator being a non-bank lender are now greater than 50-50. Just 10 years ago, more than 90% of loan originators were traditional banks. In more recent years, six of the 10 largest mortgage originators have been non-banks (Figure 2).


Figure 2. Non-Bank vs. Bank Mortgage Originations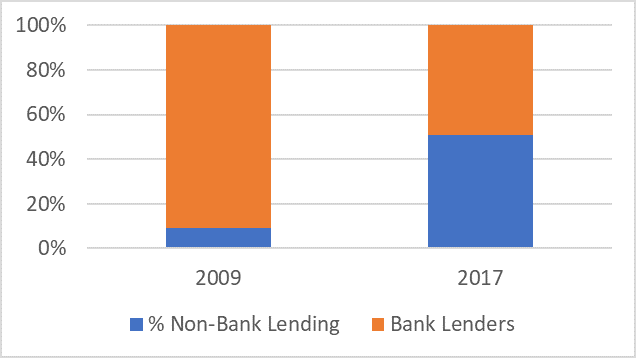 Source: Washington Post, September 21, 2018

Underwriting standards and post-global financial crisis financial regulations have made mortgages less attractive for banks. Moreover, the strength of the U.S. housing market – created by robust demand during a historically-long economic expansion and the overall resiliency of our national economy – has kept investor demand high for financial instruments backed by U.S. mortgages.

As more non-bank lenders have entered the market, competition has increased. The result has been quicker adoption of technology in the mortgage lending and marketing process and lenders being more competitive on points, rates and lending standards.

The good news in our high-cost market is that borrowers don't need perfect credit or a large down payment to get into the housing market. The concern is that the lending industry is not yet certain where the line exists between helping deserving buyers get into a home versus facilitating a new round of household financial fragility where buyers obtain a mortgage loan they can't afford. Still, the efficiency gains in recent years in mortgage application processing, driven largely by non-bank lenders, are helping the cellphone-app-focused generation of buyers better engage in the lending market. Still unresolved is a clear understanding by underwriters of the gig-economy. Once that hurdle is cleared there may be further progress in making the process of mortgage lending less of a barrier to entering homeownership.
NON-TRADITIONAL BROKERAGES – THE STORM ON THE HORIZON?

There is nothing new about limited service residential brokers. These brokers provide a worthwhile product to those who are interested in the level of service being offered. But while the internet has disrupted most every other segment of the real estate market, traditional Realtor® services and commission structures have been remarkably slow to change. The greater availability of market data has not supplanted the need for a deep market understanding, help in navigating the financial and legal complexities in real estate transactions, or the soft-side of the Realtor®-client relationship. However, there are rumblings that some take to be the distant drums of a new battle for Realtors®: communicating the value of Realtor® services in the face of new discount real estate brokerage models.

In brief, here are three areas of industry change that are emerging or expanding:


The fee structure for some discount brokerages may lower commission costs compared to traditional real estate transactions, which could reduce Realtor® earnings.
Some discount models envision a shift in the brokerage/Realtor® relationship, such that Realtors® are employees, not contractors. The stability of the salary and benefits compensation package paid to such employees is presumably appealing to some Realtors®.
A more philosophical change in the discount brokerage model is the use of referral partner programs in which the discount broker sends its former customers to a traditional brokerage, then takes a referral fee from subsequent commissions. The change here is subtle but important. For those brokers who handle this referral business, who is their primary customer – the referring entity or the homebuyer or seller?
MAY YOU LIVE IN INTERESTING TIMES
As the end of this decade approaches, real estate markets are beset by challenges new and old. The economic base for our region is changing – and could evolve even more depending on the outcome of the 2020 elections. We are less bound by federal spending but are also less protected from national and global economic challenges. Though decades in the making, there are many areas in the NVAR community that have been, or will soon be, transformed into relatively dense, mixed-use urban areas.

The players in mortgage finance have changed dramatically, but overall efficiency and the use of technology are making transactions easier to understand and simpler to complete.

Finally, the employment structure and compensation for Realtors® could continue to change. Given the disruption that has occurred in other professional service markets, it is important to understand how new brokerage models may impact the fundamental relationship between Realtor® and client – which is the key value proposition for those engaged in the buying and selling of homes.
Dr. Terry Clower is director of the George Mason University Center for Regional Analysis.